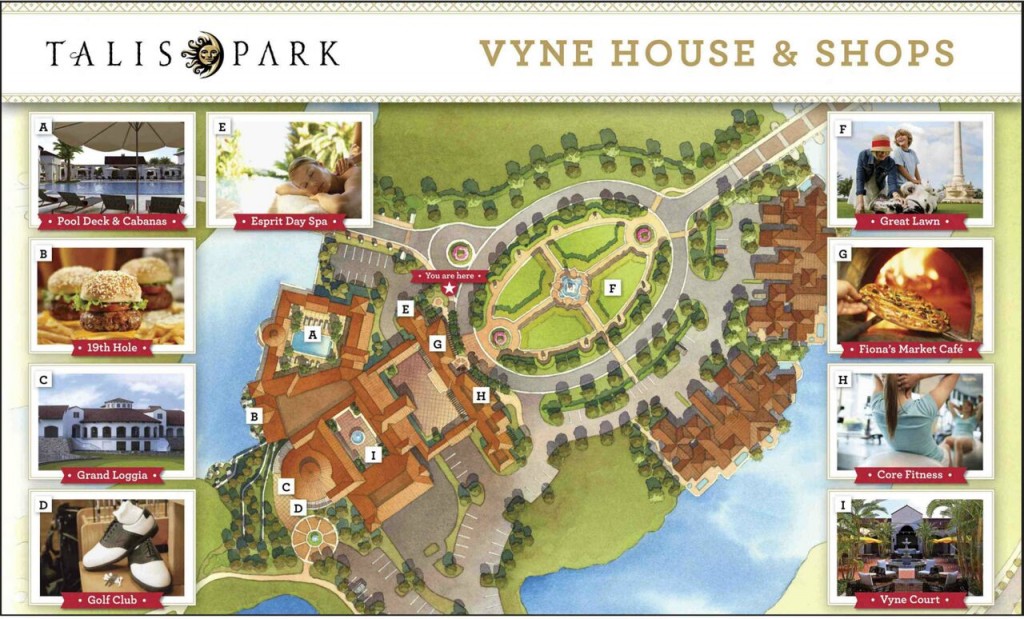 Talis Park
…where you will have "In the Park" and "In the Village" choices of lifestyle in this spacious North Naples development.  Enjoy the beautiful setting – nature preserves, golf course, tennis courts, bocce ball, pro shops, dining, country club, lakes, and The Great Lawn – unlike any other community.
Expansion of Single-Family Homes in Talis Park
Twenty-four single-family residences have been added to the Corsica neighborhood of Talis Park located in this luxury golf community in Naples.  Homes will give residents views of both water and fairways.  These homes are located conveniently close to the Talis Park Sports Complex, which features 6 tennis courts, a tennis pro shop, clubhouse, 4 bocce ball courts, and a 2-lane lap pool.  Additionally, Corsica is close to the south gated entrance to Talis Park with access from Veterans' Memorial Parkway and Livingston Road.  Homes built in Corsica range from 3,000 to 4,500 square feet.  The 3- to 4-bedroom home packages are priced between $1.6 and $2.5 million with water and fairway views of the golf coursed designed by Greg Norman-Peter Dye.  The 16 two-story Coach Homes with four units per building range in price from $725,000 for first floor and starting at $795,000 for the second floor homes.
New Luxury Models of Talis Park
Talis Park has recently made available four estate Showcase models in the Firenze neighborhood of the community.  This comes after the sale of a home site of Firenze for $2.15 million, surpassing the previous highest sale of Firenze that was $1.65 million.  Sites are still starting from $1.65 million, however.  Homes in Firenze are gated and offer views of multiple fairways and lakes.  Residents in Firenze are only a short walk away from the Vyne House clubhouse.  New estate models are also being shown in the Prato neighborhood.
In Prato, homes range from 4,500 to 8,000 square feet and start from $2.75 million.  Two of these models, the Astaire and Dorado estates, are already built and completely furnished.  Both models are priced over $4 million furnished.  The other two Prato models, Palmeri and Santa Barbara, will begin construction near the end of summer.
In the Seneca neighborhood of Talis Park, the new furnished Sinatra model is now available for walkthroughs.  The Seneca neighborhood will include 43 luxury residences with lakefront and multiple fairway views.  Only a couple of developer homesites remain, with custom packages beginning at $1.75 million.  Homes in the neighborhood will range from 3,200 to 5,000 square feet.  The Sinatra model has already been sold, but is still available for viewing by prospective Seneca homebuyers.
Talis Park Condominiums
Talis Park offers two condominium neighborhoods, Carrara and Residences at Vyne House. Carrara will contain 90 penthouse-style condominiums in 15 mid-ride buildings.  Residences will start in the $700s and will be 2,900 square feet or slightly larger.  The condominiums will have views of Talis Park's golf course and Vyne House. Residences of Vyne House will house 14 condominiums at the heart of Talis Park, directly near Vyne Court.  Units will range from 2,563 square feet to 5,648 square feet, and pricing will range from $1.35 million to $3.575 million. Residents will have views of the Great Lawn as well as various lakes.
Vyne House
The 26,470 square feet Phase II construction and new sports complex is on schedule to be completed this fall.  When completed, the Vyne House will offer 32,052 square feet under air and an additional 25,065 square feet outdoors.  The amenities will include Vyne Court, multiple dining options, fitness center, spa, and a resort-style pool.